Here Are Some of The Best Baits For Jet Ski Fishing
Night Crawlers
Night crawlers are a common choice for numerous species of fish, including Channel cat. You can usually find night crawlers outside of your home after a decent rain. Use a dim flashlight so you don't scare them away. After you catch the night crawlers, store them in a cool area with used coffee grounds, damp, dead leaves, and damp, crinkled newspaper. For most effective rigging, run the hook through the night crawler 3 to 4 times.
Crawdads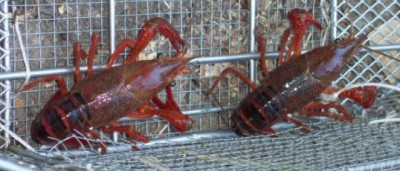 Crawdads are a good choice, depending on the environment that you are fishing in with your PWC. You can usually find crawdads near banks underneath large rocks. Be sure to turn the rocks over slowly, so they do not become scared. You can also use a sein net to catch them in small creeks. Rig crawdads dead or alive. If they are dead, run the hook from the tail toward the head. If they are alive, hook them through the tail.
Chicken Liver
For best results; try to keep the liver as close to frozen as possible. You can effectively rig liver on a treble hook, specialized liver hook, or a small Kahle. Run the hook through the chicken liver as many times as you can. If you cannot get the liver to stay secured on the hook, cradle a piece of panty hose around the liver. You should also use light lobbing casts. If your liver becomes too warm, it can become quite mush and difficult to fish with. this time.
Dip Bait
Dip bait is most effective in the warmer months. You can use this with a treble hook and sponge, or a specialized rubber ribbed worm. Thoroughly dry the bait holder with a towel before dipping the worm or sponge in the bait. Jam the bait holder into the dip bait with a small stick or poker, making sure it is heavily coated. After baiting your hook, slowly lower the bait into water for approximately five seconds. This will cool the bait so that it stays intact during your cast.
Some other common options for Catfish include minnows, leeches, beef liver, cheese, blood, dough baits, and rough fish that have been cut up, including carp, drum, and Asian carp. These will work depending on the habitat where you are fishing for Channel cats.
In my personal opinion, you should try to bring the largest variety of bait possible on each trip. If you keep it on ice, you will be able to refreeze it for future use. On some days the Channel cats will bite at almost anything, on others there are only one or two options they seem to prefer. To find what will work best, I fast fish, covering as much reachable water as possible. I move baits a few yards every 5 to 10 minutes and rotate the bait until I find what works. When I find what works, I stick with it. If they nibble but won't bit, try a smaller piece of bait and hook, I have also found that some of the largest Channel cats are easy to catch early in the season, just as the ice is thawing. Cut Bluegill, Sunfish, Shad, or Shad guts seem to work best at this time.